Why I Love Sinead Even More!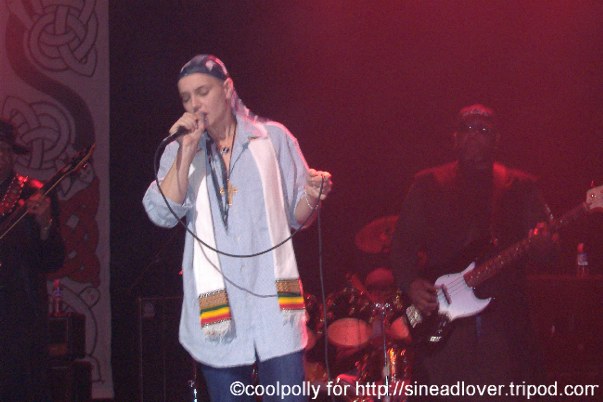 Sinead O'Connor live at the Vic Theatre in Chicago November 29, 2005 by CoolPolly
Sly & Robbie and the rest took the stage at 6:56pm which was a relief after waiting in the coldness. The played a pretty good set and since I heard that Sinead sometimes watches I kept an eye out and to my great surprise I saw Sinead peek behind the curtain at the audience smiling! Then I saw her enjoying Sly & Robbie's set smiling all the while. She caught me looking at her smiling and gave me a smile back and nodded.
Then the moment I'd been waiting for, Sinead took the stage at approx. 7:41 pm!! Oh we shouted and screamed and clapped our butts off! This made Sinead blush and bow and even more bashful. She looked directly at me and bowed and waved and said "hi" with her big beautiful smile! Then…She blew us away with Jah Nah Dead acapella and the show began! She sounded so wonderful. It was quite an experience witnessing the magic after all these years with my own ears instead of on a video or live recording. She sang strong and beautifully. She did not disappoint. It was great watching her stage talk with the sound people as she motioned them to turn it up and turn it down then turn it down real low then should would do a dance move keeping with the flow. One time, she said "could you put the keyboard back where it was please?" This reminded me that she is also a producer. Also, she kept adjusting a little thingy in her front pocket all night. She kissed and hugged her stage partners throughout the show. She seemed a very loving person. She smiled a whole lot and kept saying thanks. Someone shouted out happy birthday and she said "Well, that's next week. This week I'm young, next week I'll be old." I was moved to tears a few times during the show because of her presence and her beautiful music and even more so by a song I had never heard her sing called "None A Jah Jah". Towards the end of the show in her encore she finally picked up her guitar and said "Now you gotta listen to me play after listening to these great musicians. Just ignore me and focus on them." Men and women alike kept shouting out "We Love You Sinead!" and she would blush or blush and say thank you. She sang the whole album which is great plus a few extra beautiful songs. She closed the show with what she described as her most favorite song in the whole world "Jah Is My Keeper" acapella. Then she mentioned the songwriting or something about the person who wrote it. Someone shouted Prince and she said "No, Peter fucking Tosh! Fuck that fucking midget." She played for approx. an hour and a half. I tell ya, it went by fast!
Finally, Sinead came walking out with three people surrounding her. As she got nearer the end of the alley, I started smiling (couldn't help meself) then she smiled and backed up out of the security circle and I held my arms out and we embraced for what seemed like 30 seconds. She held me tight and squeezed, I held her tight. I could feel her snuggling her head closer to mine just and as we were letting go I said "I Love You" and she looked me straight in my eyes for about 3 seconds smiling so big and said "thank you". While she finished signing for another fan I held my TDYA CD out for her to sign and as she did so I said "Oh thank you Sinead" and she said "thanks". Of course there were autograph hounds there too. One came with a stack and she said "Uh, I can only sign a few of these" then he had the audacity to put a picture in her face that wasn't her and she said in a surprised voice but smiling "That isn't me!" and he said "sorry" and turned the page. She looked back at me her hand extended with the Sharpie (which wasn't mine). I took it. She giggled a little and said "Oh, nice meeting you" and she headed across the street. I passed the Sharpie to the rightful owner. Sinead signed more autographs and people took a few pictures then she was on her way!